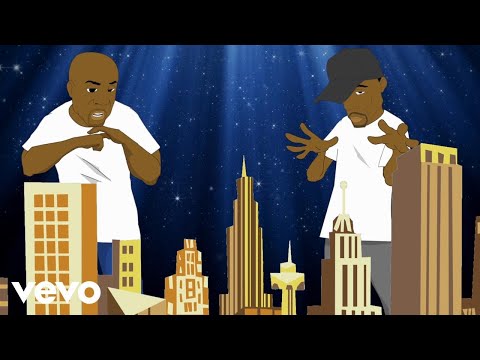 Bone Thugs-n-Harmony & Outlawz – Makaveli and Eazy (Official Single) from New 2017 Album "Thug Brothers 3"
https://itunes.apple.com/us/album/thug-brothers-3/id1268203850
https://play.google.com/store/music/album/Bone_Thugs_N_Harmony_Thug_Brothers_3?id=Btpqfs2zf3tpbxl5suxhidbnyuy&hl=en
Fans had to wait a decade for Krayzie Bone (Bone Thugs-N-Harmony) and Young Noble's (Outlawz) Thug Brothers 2; they are only making you wait a few months for the third installment to the highly successful collaboration series by members from two legendary hip hop groups.
The first Thug Brothers album was a collaborative effort by Layzie Bone and Young Noble, but for the sequels, Krayzie Bone has picked up where Layzie Bone left off. For the third installment, the dynamic duo of Krayzie Bone and Young Noble continue to carry on the legacy of both of their historic groups with yet another classic masterpiece. There is an undeniable brotherly connection between these two hip hop legends as the hypnotic harmonies that brought platinum fame to Bone Thugs-n-Harmony is laced with the hardcore rhymes that 2Pac instilled in his protégés, the Outlawz.
A fluid and cohesive album, the pair takes you on a ride covering their respective journey in the evolution of the hip hop game while paying homage to their respective iconic mentors and other fallen soldiers. Krayzie Bone and Young Noble are back for their 2nd group album with Real Talk Entertainment.
Anthony Henderson (born June 17, 1973), better known as Krayzie Bone, is an American rapper, producer, and entrepreneur. He is a member of the rap group Bone Thugs-n-Harmony.
After finding success with Bone Thugs-n-Harmony, Krayzie Bone recorded his solo debut, Thug Mentality 1999, in 1999. The album was released as a double disc set, featuring guest appearances, by Bone Thugs-n-Harmony, Mo Thugs, Mariah Carey, ThugLine, The Marley Brothers, Big Pun, Fat Joe, Cuban Link, Gangsta Boo, E-40, 8 Ball & MJG, Kurupt, Naughty By Nature and Snoop Dogg. Largely produced by Romeo Antonio, The album was certified platinum by the RIAA.
In 2001, Krayzie released Thug On Da Line, which received generally positive reviews from music critics and went gold. Amazon.com went as far as labeling it one of the best albums of 2001.
In 2006 Krayzie Bone was featured in the song "Ridin'" by Chamillionaire. "Ridin'" was awarded "Best Rap Performance by a Duo or Group" at the 49th Annual Grammy Awards. It was also nominated for Best Rap Song. It became number one in December on the Piczo Chart 3 months after its physical release. The song also topped the Billboard Hot 100 and peaked at number 2 on the UK Singles Chart when it was released there. The song ranked #3 on Rolling Stone's "100 Best Songs of 2006" and #91 on VH1's "100 Greatest Songs of Hip Hop". It was the best selling ringtone in 2006, with 3.2 million sales, certified by the RIAA as the first multi-platinum Mastertone artist in history. It was also awarded the last Best Rap Video at the MTV Video Music Awards, which was awarded in 2006.
Outlawz, formerly known as Outlaw Immortalz and Dramacydal, is an American hip hop group founded by Tupac Shakur in late 1995 after Shakur's release from prison. Collectively, they are best known for their association with Tupac Shakur.
In the earlier years of the Outlawz, they were known as Dramacydal. Dramacydal first appeared on the B-side of Tupac Shakur's 1993 single Holler If Ya Hear Me, the track "Flex". Dramacydal was composed of K-Dog who later became Kastro, Young Hollywood who later became Yaki Kadafi, Mutah who later became Napoleon, Big Malik who later became E.D.I. Mean. They also appeared on 2Pac's Me Against The World and All Eyez on Me albums. They were also known as "Thoro Headz" and "Young Thugz".
When 2Pac signed to Death Row upon his release from prison, he recruited his step brother Mopreme Shakur and Big Syke from Thug Life. Hussein Fatal, Napoleon, E.D.I. Mean, Kastro, Yaki Kadafi, and Storm (the only female Outlaw) were also added, and together they formed the original lineup of the Outlaw Immortalz that debuted on 2Pac's multi-platinum smash All Eyez on Me. They later dropped the title of "Immortalz" after the untimely deaths of 2Pac and Yaki Kadafi. Subsequently, they moved on as the "Outlawz" without the members of Thug Life. When Tupac Shakur recorded "Hit 'Em Up" a diss song towards his former friend and rival, The Notorious B.I.G., Puff Daddy and Lil' Kim, he recruited three members from the former group whom he had worked with previously, and was eager to work with them again. Together, with the New Jersey rappers and other associates, they formed the original lineup of the Outlawz. Young Noble was later added and appeared on 2Pac's second Death Row release The Don Killuminati: The 7 Day Theory under his new stage Makaveli.
…