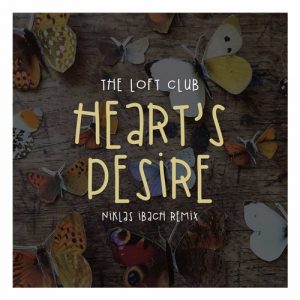 Fresh off the heels of The Loft Club's debut EP, producer Niklas Ibach now unleashes a stunning remix of the title track "Heart's Desire."

Now available everywhere through Lightyear Entertainment/Caroline/Universal Music. Ibach's remix reinvents the British indie band's record, with his mellow and decorative deep house melodies, whilst keeping a groovy melodic indie feel, that builds on the original.
German producer, Niklas Ibach is part of a new generation of producers and DJs getting recognition in Europe. He gained popularity in 2015 with high-profile remixes and originals, including his hit "Hungry (Remix)" which has surpassed 19 million streams on Spotify.
Purveyors of stomping, heartfelt, sixties tinged Indie-rock, The Loft Club are an Exeter-based quartet, consisting of Daniel Schamroth, Jamie Whyte, Kieran Chalmers and Amy O'Loughlin. "Heart's Desire," is the lead and title track from their debut 4-track EP which was released in October, along with a music video filmed inside Exeter's historical RAMM museum
Buy on iTunes: http://smarturl.it/HDNiklasIbachRmxIT
Stream on Spotify: http://smarturl.it/HDNiklasIbachRmxSP
Get it on Amazon Music: http://smarturl.it/HDNiklasIbachRmxAM
Get it on Google Play: http://smarturl.it/HDNiklasIbachRmxGP
Stream on Soundcloud: https://soundcloud.com/theloftclubband/hearts-desire-niklas-ibach-remix

Follow The Loft Club:
https://www.facebook.com/theloftclubband
https://twitter.com/theloftclubband
Band Contacts:
Scott Shephard, SC923, info@sc923.com
Sky Spooner, Lightyear Entertainment, sky@lightyear.com
Follow Niklas Ibach:
https://www.facebook.com/NiklasIbachOffical
https://twitter.com/niklasibach
Artist Contacts:
Ulrich Nefzer, Modernsoul, uli@modernsoul.de
Anja Beyer, Modernsoul, anja@modernsoul.de
Follow Lightyear Entertainment:
https://www.facebook.com/lightyearent
https://twitter.com/LightyearEnt